Ford SYNC® 3 AppLink™ stelt gebruikers in staat om audioboeken in het vliegtuig te luisteren, bestemmingen te zoeken en direct in stellen op de navigatie, nieuws op te vragen, muziek te luisteren en artikelen toe te voegen aan Amazons online boodschappenkarretje
Toegang tot Alexa vanuit de auto biedt de mogelijkheid om functies die zijn aangesloten op het internet, zoals verlichting, beveiligingssystemen, garagedeuren en andere Alexa-apparaten op commando te bedienen
De nieuwe mobiele navigatiemogelijkheden voor Ford SYNC® 3 AppLink™ zorgen ervoor dat de smartphone-applicaties direct op het touchscreen van het voertuig verschijnen
De Sygic autonavigatie-applicatie is de eerste applicatie die via touchscreen te bedienen is
De nieuwe SYNC mobiele navigatie zal in 2018 op de Ford voertuigen worden geïntroduceerd
De integratie van Alexa – de meest uitgebreide ooit in een auto – laat Ford eigenaren audioboeken afspelen, artikelen bestellen op Amazon, zoeken naar lokale bestemmingen en deze overdragen aan het in-car-navigatiesysteem en nog veel meer.
Lees verder
Downloads
De samenwerking met Alexa wordt geïntegreerd in Ford Applink™ software, die het protocol voor smartphone-applicaties om te communiceren met Ford SYNC® 3 biedt. Amazon heeft aangekondigd toe te treden tot de SmartDeviceLink om de mogelijkheid van Alexa in de auto te kunnen uitbreiden. Dankzij SYNC® 3 met AppLink™ kunnen bestuurders tijdens het gebruik van de applicaties hun ogen op de weg en hun handen aan het stuur houden.
Lees de complete Engelse berichten hieronder.
Millions of consumers who befriended Amazon Alexa over the last year, including many who just received an Echo or Echo Dot as a holiday gift, will soon be able to experience Alexa like never before from a Ford vehicle. A new collaboration between Ford Motor Company and Amazon is making this capability possible.
The Alexa integration – the most comprehensive ever in a vehicle – allows Ford owners to play and resume audiobooks, order items on Amazon, search for and transfer local destinations to the in-car navigation system, and more. From home, Ford vehicle owners will be able to remote start, lock or unlock doors, and get vehicle information using voice commands.
"Ford and Amazon are aligned around a vision that your voice should be the primary way to interface with your favorite devices and services," said Don Butler, executive director, Ford Connected Vehicle and Services. "Customers will be able to start their vehicles from home, and manage smart home features while on the road – making life easier."
Ford will roll out its Alexa integration in two phases. The first, available later this month, connects you to your car from the comfort of home through Alexa devices such as Amazon Echo, Echo Dot and Amazon Tap. The second, expected this summer, allows you to tap into a broad set of Alexa skills using your voice while driving – helping you keep your eyes on the road and hands on the wheel.
"We're excited to work with Ford to enhance the driver experience both inside and outside of the vehicle," said Steve Rabuchin, vice president, Amazon Alexa. "We believe voice is the future, and this is particularly true in cars. The ability to use your voice to control your smart home, access entertainment, manage to-do lists and more makes for an extraordinary driving experience. We can't wait for Ford customers to try this out."
Alexa on the go
Beginning this summer, Ford drivers with SYNC® 3 will be able to ask Alexa to read weather reports, play music, check news, add items to shopping lists and more – all from their car. For instance, you could ask Alexa to add milk or batteries to your shopping list without ever picking up a pen.
This industry-first in-car capability through Ford SYNC 3 AppLink™ simply requires drivers tap the voice recognition button on the steering wheel, then say "Alexa," followed by a question or command. Ford is currently beta-testing this experience with employees.
Inside the vehicle, drivers can ask Alexa to locate a desired destination. Alexa will use the vehicle location to find nearby businesses. For example, customers could say, "Alexa, find the nearest Italian restaurant." Once the driver chooses the desired destination, Alexa can transfer the address to the SYNC 3 navigation system.
Customers can also continue experiencing their favorite books from the road. Using Whispersync for Voice, Alexa will switch to an Audible audiobook recording to resume reading where the driver left off.
Customers can also access many Alexa smart home devices to control lighting, security systems, thermostats and more from the vehicle.
Alexa at home
Ford Focus Electric, Fusion Energi and C-MAX Energi owners will be first to access home-to-car capability using MyFord® Mobile technology.
Through Alexa, Ford plug-in electric vehicle owners can easily control their vehicle from home using Amazon Echo, Echo Dot or Amazon Tap. Speaking to Alexa through one of these devices, they can: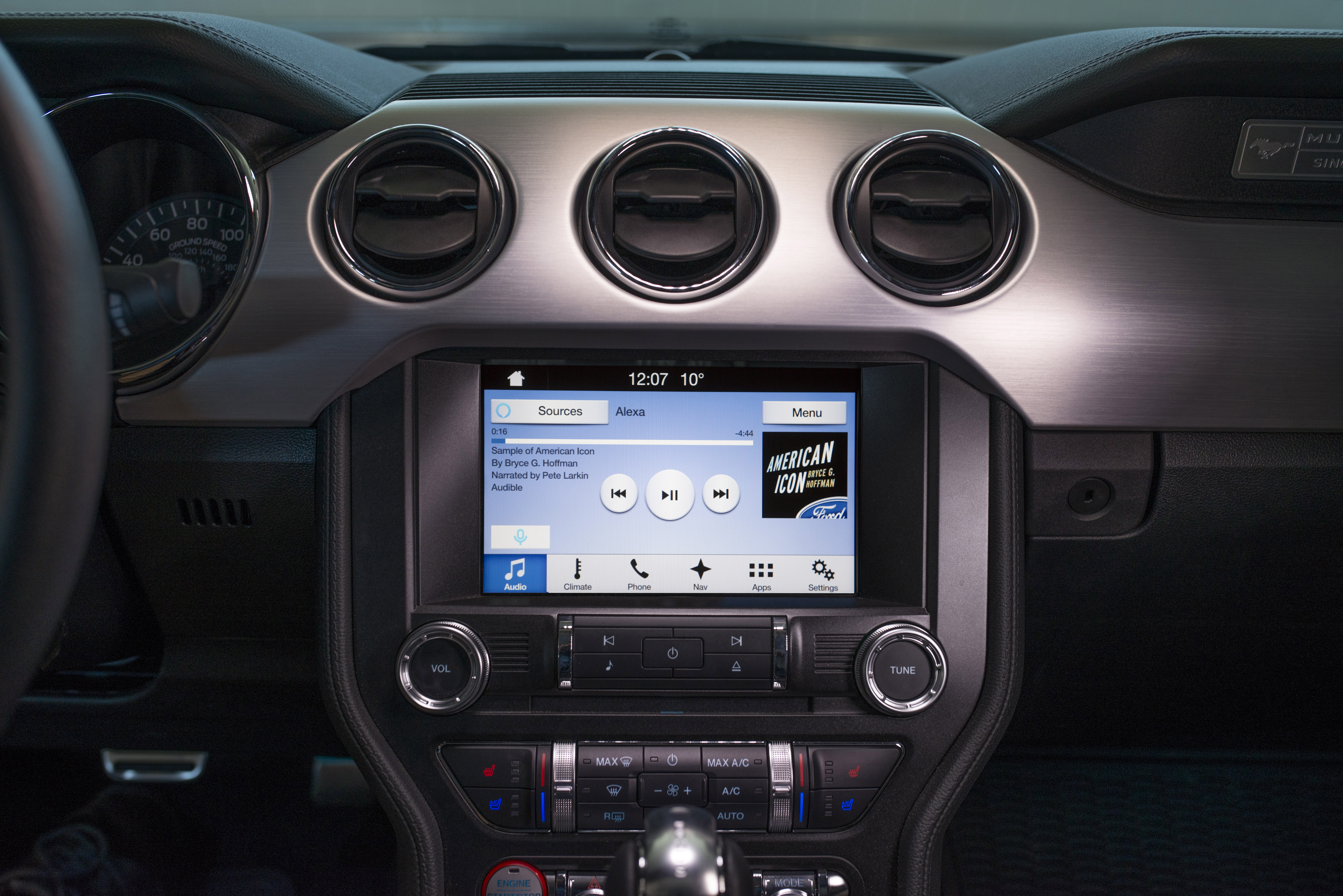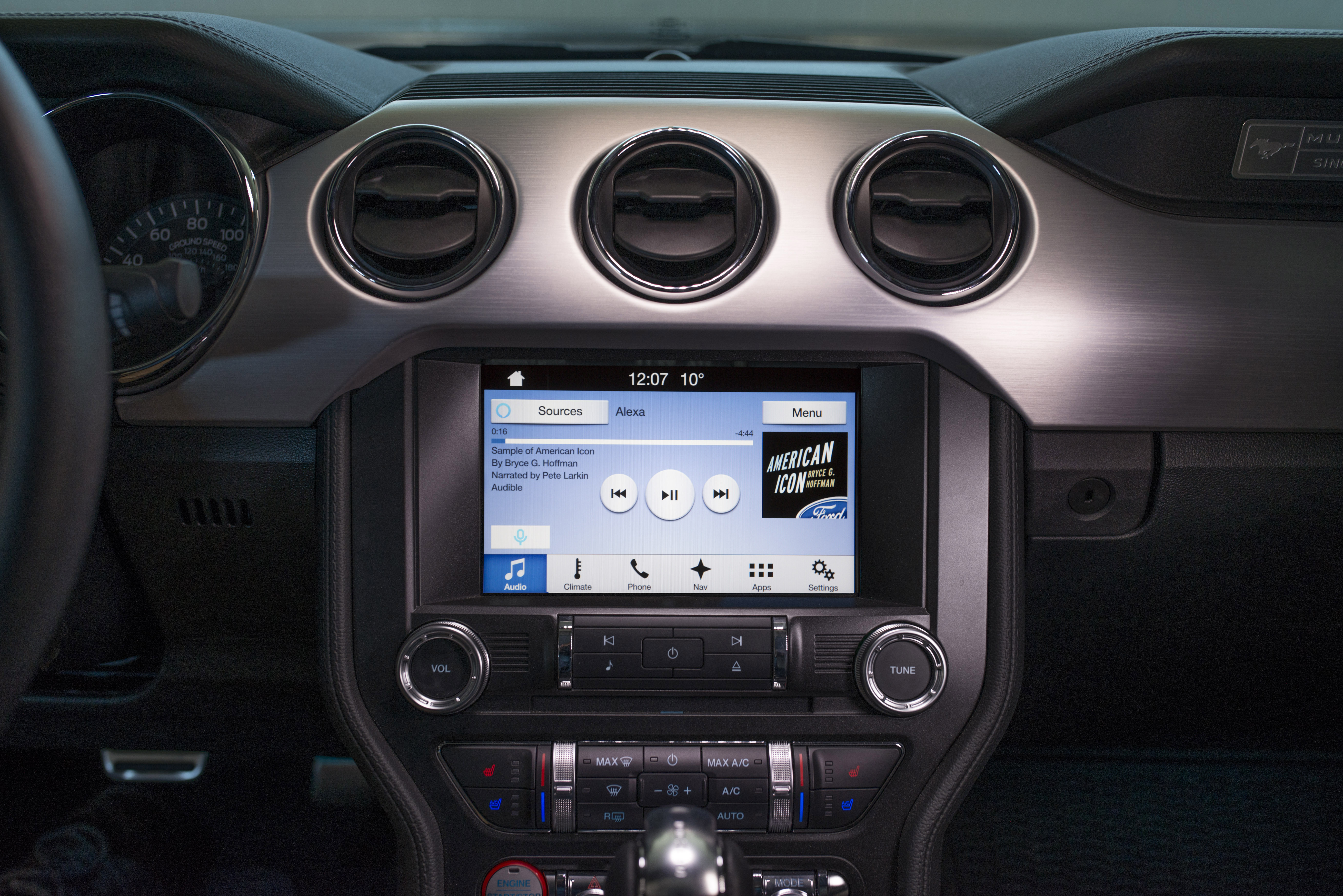 • Start or stop the engine
• Lock or unlock doors
• Check range and charge status
• Learn fuel level
• Obtain a vehicle mileage summary
At home, interactions with Alexa could include:
User: "Alexa, ask MyFord Mobile to lock my car."
Alexa: "Sending lock command to your car."
User: "Alexa, ask MyFord Mobile to start my car."
Alexa: "Sending start command to your car."
User: "Alexa, ask MyFord Mobile for my range."
Alexa: "Your vehicle is 83 percent charged. Electric range is 17 miles, fuel range is 216 miles and overall range is 233 miles."
Ford is working on adding Alexa home-to-car integration for vehicles with SYNC Connect in the future.
Click here for a video demonstration of Amazon Alexa integration with Ford vehicles.
SmartDeviceLink support
The collaboration to integrate Alexa into the car introduced Amazon to Ford's AppLink software, which provides the protocol for smartphone apps to communicate with Ford SYNC 3.
AppLink is now built on open source SmartDeviceLink software. This burgeoning standard was created in 2013 when Ford contributed the original AppLink code to encourage other automakers to adopt and use the software to link compatible smartphone apps with their own connectivity systems.
Earlier today, Ford and Toyota, the first automaker to announce adoption of SmartDeviceLink, announced formation of the SmartDeviceLink Consortium with four other automakers and several automotive suppliers as initial members. Amazon announced it will join the consortium to expand the opportunity of Alexa in the car.
The SmartDeviceLink Consortium will help further improve the open source software for all members, and give app developers and service providers expanded opportunities to reach consumers across multiple automaker product lines.
# # #
With most smartphone owners saying they use navigation apps while driving, Ford Motor Company is introducing new SYNC® AppLink™ capability that will project navigation apps directly from a smartphone to the vehicle touch screen. Sygic Car Navigation is first to take advantage of the new capability.
"Ford understands how customers are using their smartphones, so it's important we offer them more choice in how they connect and control their capabilities in the car," said Don Butler, executive director, Ford Connected Vehicle and Services. "Our new SYNC AppLink mobile navigation capability will help keep drivers' eyes on the road and their hands on the wheel while using the apps that they love."
According to a 2015 study by Pew Research Center, two-thirds of Americans are now smartphone users. Of more than 1,600 who participated in the study, 67 percent said they use their smartphones at least occasionally for turn-by-turn navigation when driving, while 31 percent frequently use navigation apps via their smartphones.
When a smartphone is paired to the vehicle via USB cable, control of the Sygic app is removed from the device. The app is automatically projected to the vehicle touch screen making the navigation app more convenient to manage. The technology aims to reduce a driver's urge to pick up and look at a mobile device.
Sygic is the first mobile navigation app to take advantage of Ford AppLink capability to move mobile navigation from the phone screen to the in-vehicle touch screen. Available in more than 200 countries and about 40 languages, Sygic technology is used by 150 million smartphone owners across the globe. The Sygic Car Navigation app is optimized to work seamlessly with Ford SYNC 3 – giving drivers more choice in how they navigate.
"Sygic is committed to exploring the boundaries of navigation, a philosophy that directly contributes to our enduring reputation as the leader in navigation for connected cars," said Sygic CEO Michal Štencl. "We look forward to unveiling premium new cutting-edge features and further developments as part of our global relationship with Ford."
The new SYNC AppLink mobile navigation capability will launch on 2018 Ford vehicles. SYNC AppLink provides drivers with the ability to control compatible smartphone apps using their voice or the in-vehicle touch screen. Developers can easily make their smartphone apps compatible with SYNC by downloading and integrating the AppLink software from the Ford Developer Program website.
Click here for a video demonstration of the Sygic Car Navigation app enabled for Ford SYNC AppLink.