Ford Mustang racet verder in de SRO GT4-categorie met een nieuwe op de Mustang Dark Horse gebaseerde raceauto. De Mustang GT4 zal in 2024 wereldwijd aan races deelnemen en is de tweede Mustang-raceauto na de recente onthulling van de Mustang GT3
Troy Lee Designs zet relatie met Ford Performance voort in een reeks van unieke livery's
De Mustang GT4 is gebouwd in samenwerking met Multimatic en beschikt over een op de Coyote V8 gebaseerde motor, die volledig intern is ontwikkeld door Ford Performance
Met de onthulling van de Mustang GT4 maakt Ford de belofte waar om wereldwijd een Mustang-raceauto te leveren voor elke coureur, van amateur tot professioneel raceteam.
Fords iconische Mustang breidt vandaag zijn legendarische status verder uit met het formele debuut van de Mustang GT4 tijdens de 24 uur van Spa, op het legendarische circuit van Spa-Francorchamps in België. Lees verder
Downloads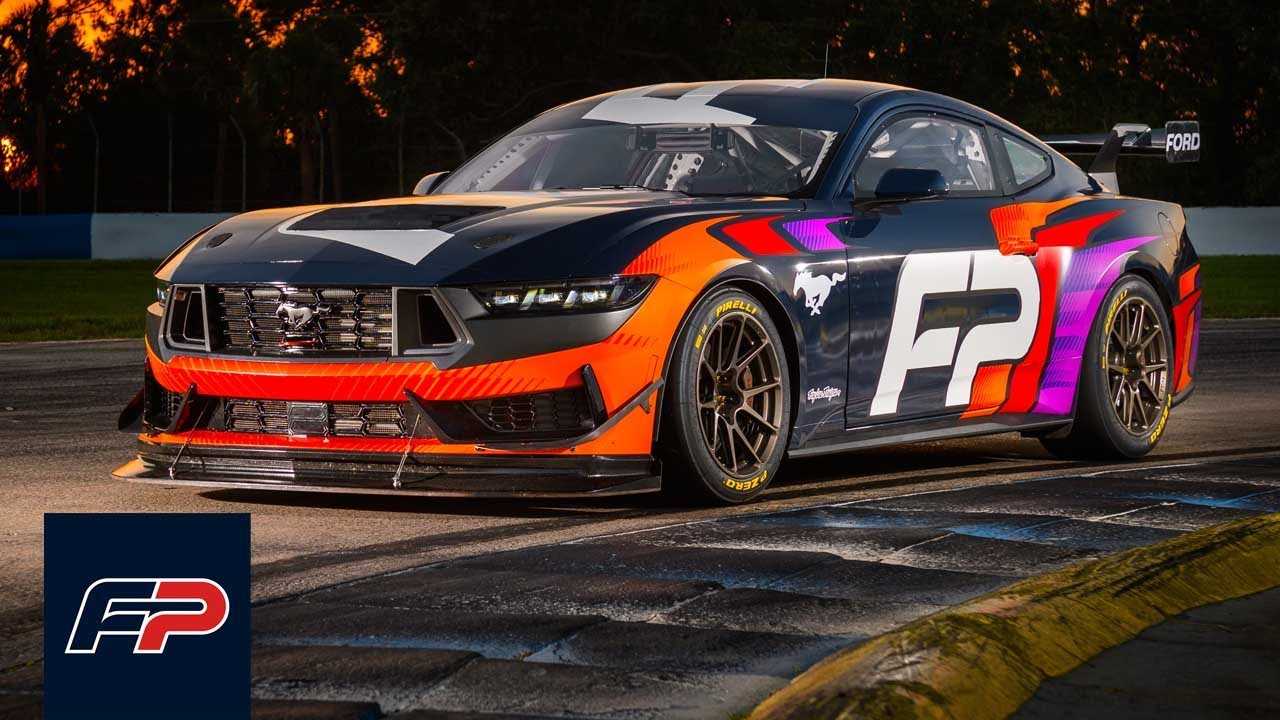 De Mustang GT4 is de nieuwste autosportinspanning van de Blue Oval en werd door Jim Farley, president en CEO van Ford, "Ford vs. Everyone" genoemd. De Mustang GT4 is net als de Mustang GT3 gebaseerd op de geheel nieuwe Mustang Dark Horse. Met de onthulling zet Ford officieel zijn aaneengesloten deelname voort in de SRO-goedgekeurde GT4-klasse, waar Ford in 2017 tot toetrad.
En net als de Mustang GT3 en de Supervan 4.2 krijgt de nieuwe Mustang GT3 een gedurfde, kleurrijke livery van Troy Lee Designs. Troy Lee wordt erkend als een van de belangrijkste ontwerpers van motorsport-livery ter wereld.
Lees hieronder het volledige bericht in het Engels:
""The Mustang GT4 is a key member of our motorsports lineup," said Mark Rushbrook, global director, Ford Performance Motorsports. "Its placement between the Mustang GT3 and soon-to-be-unveiled Mustang Dark Horse R keeps the brand in competition at all levels of on-track performance and is an important part of our customer racing program. With this new version, based off the seventh generation's new Dark Horse model, we've upped the game and are ready to challenge an entire world of competitors."
The introduction of Mustang Dark Horse in 2022 was the precursor to a broader launch of a family of Mustang racecars debuting this year. These include the new Mustang GT4, the recently revealed Mustang GT3, as well as the upcoming Mustang Dark Horse R and more. All will carry on the standing of Mustang as Ford's most raced and most successful nameplate, racing at legendary tracks around the world from Daytona to Bathurst, featuring accessibility ranging from the heights of professional GT racing all the way to consumer track days. Mustang truly will be racing everywhere.
With the new Mustang GT4, Ford Performance further expands its robust partnership with Multimatic, who will build every Mustang GT4. The Ford Coyote-based V8 race engines in the Mustang GT4, developed fully in-house by Ford Performance, will be assembled by Ford in Dearborn, Michigan.
"We're proud to work with so many great partners on these race vehicle programs," said Christian Hertrich, Motorsports powertrain manager, Ford Performance. "It's also special to be able to do all of the engine work for the Mustang GT4 fully in-house. We've got a great team, and I'm excited for Mustang fans to see the Mustang GT4 in action."
The Mustang GT4 race car also features Multimatic DSSV dampers, a Holinger dog-ring gearbox, paddle shifters with pneumatic actuation, natural fiber body panels, as well as a unique aero package developed to meet GT4 category targets.
For racers and teams interested in acquiring a Mustang GT4 to enter into competition, please visit https://www.ford.com/performance/mustang-gt4